But a risk free guarantee isn't all that you'll be getting.
Because I'm going to sweeten the deal even more!
I know some folks may still not be able to invest this amount…
Especially in this time of need and I will be doing you a disservice if you didn't try the program and take advantage of all the life-saving information it contains.
So I'm going to sweeten the deal even more.
Order today and you will also receive the FAST ACTION BONUS SURVIVAL GUIDES, normally worth $47 each.
The first Bonus you'll receive is the Medical Survival Guide and with it, you'll learn exactly what to do when hospitals are closed.
And trust me, this is something that may very well happen sooner or later if the system collapses. No matter if you face a long- or short-term crisis situation, there's a good likelihood that you will have to face a medical emergency.
Common health problems such as diarrhea, broken bones and fevers may quickly become life threatening because your access to medical professionals and prescription drugs may be drastically limited.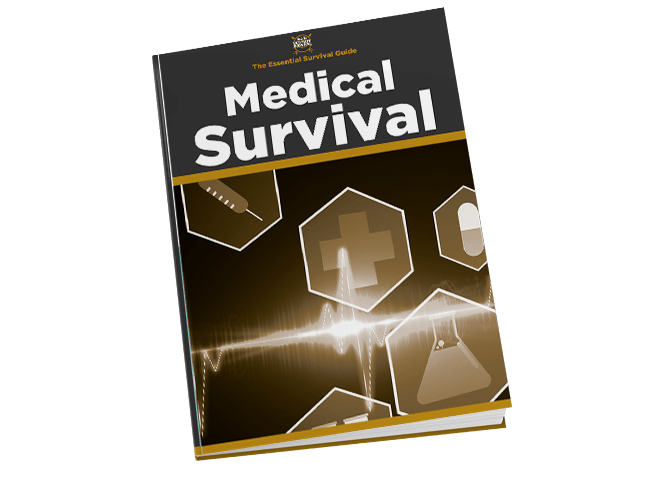 The product is a digital download, image is for visualization only.
In this guide, you're going to learn how to keep yourself and your family as healthy as possible during ANY crisis.
You're also going to learn life saving steps to handle common medical emergencies you're most likely to encounter.
And finally we're going to discuss your first aid kit and prescription drug planning.
We'll discuss how to stockpile a 60-day supply of prescription drugs and how to look to nature to solve your medical problems when pharmacies are no longer an option.
The Medical Survival Guide is guaranteed to save your life or the life of a loved one.
The Second Bonus you'll receive is the Water Crisis Survival Guide.
And inside, you'll discover the best ways to ensure that your family has all the water it needs to survive. Apart from shelter, water is perhaps the most essential item that you would normally require in a survival situation.
Water Crisis Survival Guide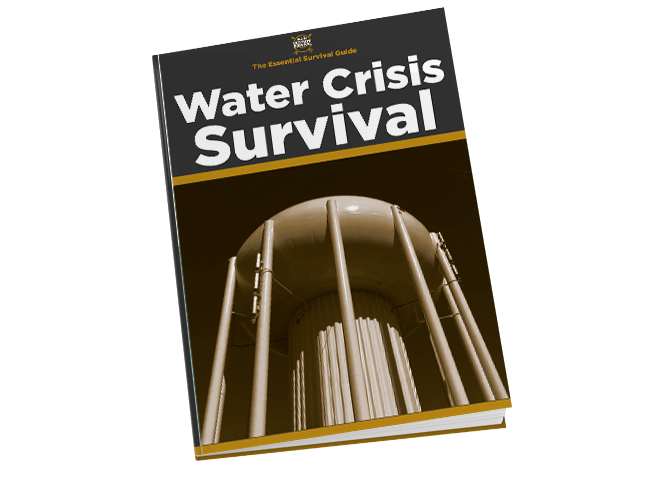 The product is a digital download, image is for visualization only.
Under usual circumstances, depending upon the ambient temperature and level of activity, a person can survive up to 3 days without water.
Anything above 3 days, and your survival chances will become absolutely thin due to the combined effect of dehydration and malnutrition.
Water is a basic necessity of all living beings.
And when it comes to health and survival, water is much more important than food.
Without adequate intake of water, your kidneys stop functioning properly and the brain faces concentration and memory problems, which are critical in taking the best decisions for your survival.
The Water Crisis Survival Guide will show you why you need to save water and how much water is enough for your disaster preparation.
You will also find out the best ways to store water, how to quickly deal with water storage problems and how to avoid dangerous waterborne diseases, such as cholera, diarrhea, or hepatitis A.
Moreover, this guide will teach you the best practices to purify your water - including boiling, filtration, reverse osmosis, distillation and even ultraviolet treatment techniques. Remember - if you have a steady source of water, your survival chances are above 80% of those the rest of the population has.
But wait!
I know there's no such thing as being over prepared when it comes to ensuring your safety and health during times of need!
That's why I've set up something truly special:
If you act right away, and complete your order in the next 5 minutes…
I'm going to give you, for a unique one time offer…
The Ultimate Survival Guide Pack - the all-in-one kit to be 200% sure that NO MATTER WHAT HAPPENS, you will be 10 steps ahead of any danger.
So, besides the Essential Survival Guide Pack and the 2 Fast Action Bonus Survival Guides, you will also receive the following 3 exclusive bonuses and benefits:
The first one is called "The Ultimate Food Survival Guide", and normally has a retail value of $97!
Long, empty spaces of bare metal or wood… it's an unusual sight in a Supermarket and likely you've only ever seen it happen once or twice.
What causes huge multinational companies like supermarkets to run out of food for people to buy?
The answer is panic.
In the event of an unforeseen event occurring, human response is to prepare for the unknown future as best we know how.
When food distribution services, transportation or communication lines are threatened, people grab whatever they can in an attempt to ensure the safety of their house, their belongings and most importantly their family.
Less than 15% of Americans have the necessary resources in their house for the survival of their family in the event of a catastrophic event.
This puts a whooping 85% of the population in dire straits in the event of a sudden catastrophe.
Suddenly, the likelihood the supermarket shelves will soon be filled again with food is non-existent.
Your odds of securing the basic things you and your family need to thrive in an emergency could drop to almost nil.
Knowing EXACTLY what to stock in such situations makes the difference between life and death.
The "Ultimate Food Survival Guide" will reveal the 36 essential foods to get before a crisis breaks, what are the first items that will disappear from the shelves and how to prepare for that situation, what liquids you should stock, the best food and grocery items that you must have in your pantry, what hygiene products you must get and a complete list of household and medicinal items that are crucial for you in case of a long-term crisis situation. With the Ultimate Food Survival Guide there will be no more guesswork.
Ultimate Food Survival Guide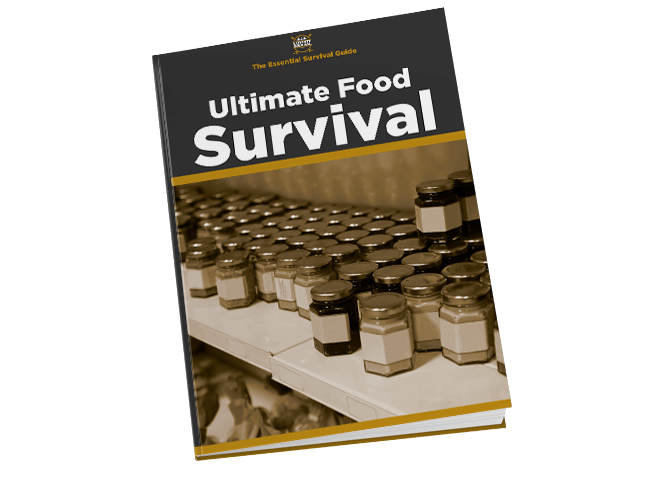 The product is a digital download, image is for visualization only.
You'll know exactly what clothing pieces you should get, what are the best weapons of protection, cooking equipment and even what essential gardening tools, seeds and supplies you should stock.
The best thing about the "Ultimate Food Survival Guide" is that you'll also learn exactly how much food you should buy and how to stockpile on a budget.
With this guide, you will learn how to store your purchases correctly and how to give your items the longest shelf life.
This guide is an absolute must for long-term survival planning.
The second guide from the Ultimate Survival Guide Pack is called "Ultimate Personal Defense Secrets",has a normal retail value of $67 and it is absolutely essential if you want to defend yourself from any attacker, no matter how good of a fighter you are!
Ultimate Personal Defense Secrets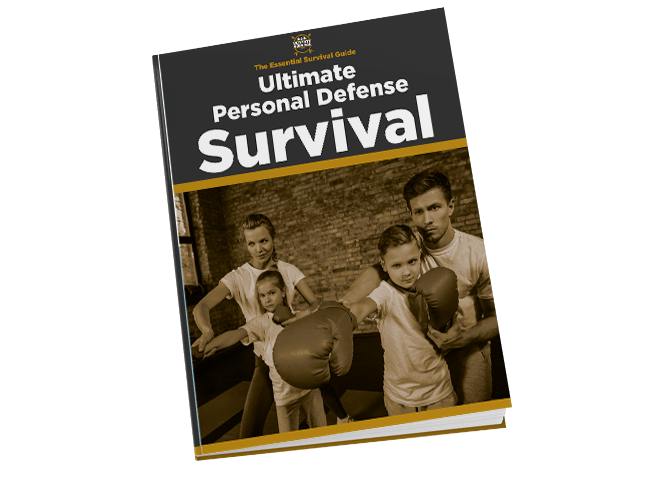 The product is a digital download, image is for visualization only.
Suppose as you are walking home from work one night, a figure leaps from a dark alley and twins your arm behind your back. He threatens you. What do you do?
Suppose you're walking with a female companion and she is insulted by a tough-looking hood. The roughneck is about 6 feet 4 inches tall and uses profanity that would make even a tough Marine sergeant blush! What do you do?
Your answer might be "that's never happened to me!" or "Anyway, that's what we have police for".
But remember: an assailant or a thief never attacks when the law is around. Only when he thinks you are alone, unarmed, will he strike. To take your food, your supplies, your medicine and everything else valuable!
And when disaster strikes, all the rule of law will fall to a crumble.
There will be nobody there to protect you and your loved ones except for yourself!
Inside this handy guide you will:
Learn how to bring down any attacker in seconds, using only your bare hands.
Find out what NEVER to do when faced with an ARMED attacker.
See why you should never use your fist in combat -– and how just tapping one tiny pressure point will hospitalize any assailant.
And many more...
ANYONE, and I really mean ANYONE can quickly learn and immediately use these self-defense techniques no matter how young or old, and you'll see exactly how to do this inside the Ultimate Personal Defense Secrets.
Last, but not least, the third guide from the Ultimate Survival Guide Pack is called "Ultimate Firearms Survival Guide" and has a normal retail value of $67.
Ultimate Firearms Survival Guide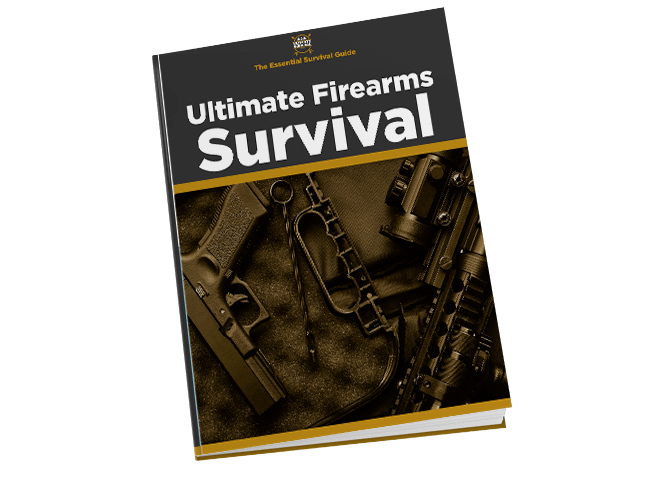 The product is a digital download, image is for visualization only.
Maximizing your chances of survival during a crisis are absolutely essential.
And expert knowledge of firearms is critical.
A weapon is a fantastic deterrent and a companion you can always trust. In this guide you will learn everything you need to fully operate a weapon, how to deal with ammo shortage, how to hide your guns and ammo, why owning a gun is more important than ever and even how to build your own survival rifle!
When time comes, with this guide, you'll know that you have done the right thing by preparing ahead!
So, just to quickly recap:
For the small, one-time-only investment that you see below, if you choose right now the Ultimate Survival Guide Pack, you will get instant access to everything that you'll need to fully prepare for a pandemic, natural disaster or complete collapse of society: the Food Survival Guide, the Personal Defense Secrets protocol, the Firearms Survival Guide, as well as your 2 essential Fast Action Bonuses: the Medical and the Water Crisis Survival Guides.
That's over $400 of life-saving actionable information for the cost of one meal out at an average restaurant!
I mean it's nothing, yet, with all that knowledge, you'll be able to act like an expert survivalist in case of any dangerous survival scenario that might happen.
And don't forget your order is fully protected by my 60-day money back guarantee which means there is absolutely no risk on your part at all.
Of course, you can always choose the Essential Survival Guide Pack.
Some people do so.
But again, I'm sure you wouldn't want to miss on all the great benefits you will receive practically for free & at no extra risk if you act now and go for the exclusive Ultimate Survival Guide Pack.